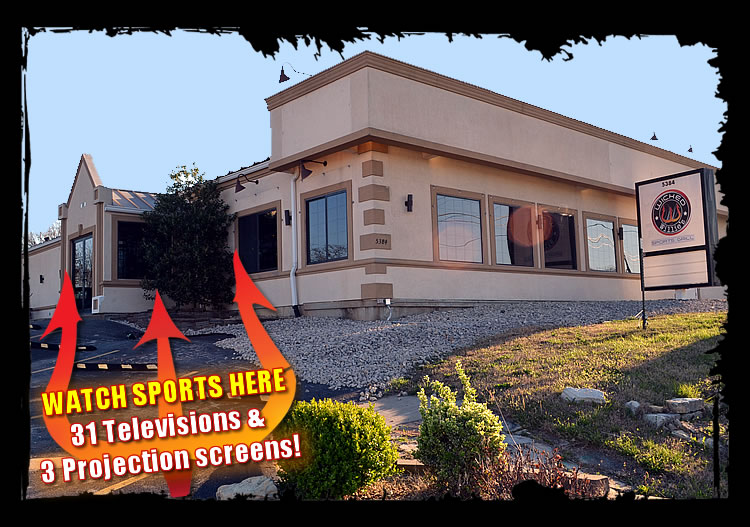 Please note that we are temporarily not serving flatbreads or any item with tuna or salmon as an ingredient.
APPETIZERS
FRESH JUMBO WINGS
BUFFALO – with Spicy Black Pepper-Dijon Buffalo Sauce – 10.95
GRILLED JAMAICAN JERK – spicy Jamaican Jerk marinade – 10.95
SWEET 7 SPICY PINEAPPLE HABANERO – 2017 AWARD WINNER! The name says it all– 10.95
TERIYAKI CHICKEN WINGS – tossed in a a Sweet Soy-Ginger sauce – 10.95
WICKED WINGS – 2019 WINGFEST PEOPLE'S CHOICE WINNER – buffalo dry rub wings, tossed in a sweet & spicy pineapple habanero sauce – 10.95
**Ask your server for Bleu Cheese or Ranch and celery sticks.
NACHOS
BUFFALO CHICKEN 
grilled chicken, tossed in Wicked Willie's Buffalo sauce, melted cheddar jack cheese, bleu cheese crumbles, jalapeno pickled celery, drizzled with sriracha ranch
10.95
IRISH NACHOS
waffle fries, topped with chicken, cheddar jack cheese, bacon, ranch & green onions
10.95
BEEF
seasoned ground beef, cheddar jack cheese, queso blanco, tomatoes, jalapeno-pickled celery & green onions
10.95
Add guacamole – $1.95, add salsa 95¢, add sour cream 95¢ 
FLATBREADS
BBQ CHICKEN FLATBREAD
BBQ sauce, seasoned chicken & topped with bacon, red onions, cheddar jack cheese & fresh cilantro
9.95
EXOTIC MUSHROOM
roasted exotic mushroom blend, fresh herbs, parmesan and goat cheeses
8.95
MARGHERITA FLATBREAD
fresh basil, mozzarella, tomato, roasted garlic olive oil, and balsamic syrup
8.95
SEAFOOD APPETIZERS
TUNA TATAKI
seared tuna loin, drizzled with citrus soy, served with an Asian salad & ginger-miso vinaigrette
11.95
PEEL & EAT SHRIMP
large shrimp, seasoned & chilled, served with house made cocktail sauce & lemon
1/2 Pound 11.95  |  1 Pound 21.95

SIGNATURE APPETIZERS
ASIAN CHICKEN LETTUCE WRAPS
grilled marinated chicken, pickled carrots & daikon, bean sprouts, roasted shiitake mushrooms, fresh herbs, rice noodles, toasted peanuts, served with nuoccham (Vietnamese dipping sauce) or teriyaki sauce
9.95
CLASSIC CRABCAKES
served with raspberry chipotle remoulade
10.95
SOUTHWESTERN CHIPOTLE CHICKEN RANGOON
served with raspberry-chipotle dipping sauce
10.95
WICKED WILLIES PHILLY QUESADILLA
thinly shaved beef with sauteed onions & peppers, Pepper Jack cheeses;
*substitute grilled chicken
11.95
BUFFALO CHICKEN POTATO SKINS
crispy potato skins stuffed with grilled chicken tossed in Wicked Willie's Buffalo sauce, cheddar jack and bleu cheese, crisp bacon _and green onions, drizzled with sriracha ranch
8.95
MEDITERRANEAN GOAT CHEESE
baked goat cheese with balsamic glazed shallots, roasted garlic, sundried tomatoes, toasted almonds, olive oil and fresh herbs served with Asiago baked flatbread
8.95
WICKED FUNDIDO
a magical blend of velvety cheeses, beef, and just the perfect hint of spices, served with tortilla chips
9.95
SOUPS & SALADS
WILLIES SMOKED TURKEY CHILI
smoked turkey, white beans, tomatillos, and green chilies garnished with cilantro and tortilla strips
Bowl 6.95, Cup 3.95
TOMATO BISQUE
served with miniature grilled cheese
Bowl 7.95, Cup 5.95
SIDE SALAD
mixed greens, grape tomatoes, cucumber, croutons, cheddar jack cheese, choice of dressing
4.95
HOUSE SALAD
mixed greens, tomatoes, cucumber, croutons, pecans, dried cranberries, asiago cheese and choice of dressing
6.95
ASIAN CHICKEN SALAD
grilled hoisin marinated chicken, shredded cabbage, carrots, and leaf lettuce, broccoli florets, and peanut dressing … topped with crisp rice noodles
9.95
ROASTED MUSHROOM ARCADIAN CAESAR SALAD
grilled hoisin marinated chicken, fresh greens, cabbage, broccoli florets, spiced peanuts and peanut dressing…topped with crisp noodles
10.95
SMOKED TURKEY COBB
mixed greens, smoked turkey, avocado, tomato, crisp bacon, soft boiled egg, bleu cheese, crumbles and choice of dressing
10.95
STRAWBERRY & GOAT CHEESE
organic baby spinach, fresh strawberries, spiced pecans, crumbled goat cheese, and a side of strawberry-balsamic vinaigrette
10.95
**Dressings – Bleu Cheese, Buttermilk Ranch, Caesar, French, Honey Mustard, Italian, Strawberry Balsamic Vinaigrette, Vinegar & Oil and Wicked Willie's House
SANDWICHES & WRAPS
CAJUN TUNA SLIDERS
blackened ahi tuna, creole vegetable slaw, spicy Cajun remoulade, served on Hawaiian sweet rolls
12.95
SALMON AVOCADO & TOMATO
olive oil & black pepper marinated salmon, topped with avocado·, lettuce, tomato, and chipotle mayonnaise on toasted wheat bread
13.95
GRILLED SALMON WRAP
grilled hoisin glazed salmon, pineapple salsa, sesame ginger dressed greens, slivered almonds, and rice noodles in a spinach herb tortilla
12.95
GRILLED  OR FRIED WHITE FISH SANDWICH
served with remoulade, lettuce and tomato on a hoagie
12.95
SMOKED TURKEY & PEPPER JACK CLUB
smoked turkey, pepper-jack cheese, bacon, lettuce, tomato, chipotle mayonnaise on toasted wheat bread
10.95
WILLIES B.L.T.
crisp bacon piled high, served on toasted wheat bread with tomatoes, lettuce, and chipotle mayonnaise
9.95
NOTORIOUS P.I.G. CUBAN
slow roasted pork belly, ham, bacon-onion jam, Swiss cheese, pickles, mojo mustard, all pressed between a hoagie
13.95
GRILLED CHICKEN BREAST SANDWICH
melted Swiss cheese, caramelized onions, herb mayonnaise, lettuce and tomato on a brioche bun
9.95
*Add bacon $2.95 Add avocado $1.95
PORK TENDERLOIN
hand breaded in parmesan & bread crumbs, served on a brioche bun with herb mayo, lettuce & tomato
11.95
PHILLY CHEEKSTEAK
thinly shaved beef with sautéed onions & peppers, pepper Jack cheese, served on a hoagie
11.95
GRILLED CHICKEN BREAST SANDWICH
melted Swiss cheese, caramelized onions, herb mayonnaise, lettuce and tomato on a brioche bun
9.95
*Add bacon – 2 *Add avocado .95
GRILLED CHICKEN SALAD
celery, onion, grapes, dried cranberries, toasted almonds served either on toasted wheat or in a lettuce cup
8.95
MEDITERRANEAN CHICKEN WRAP
grilled chicken, baby spinach, feta cheese, and eggplant relish with tomatoes & olives in a spinach herb tortilla
10.95
GRILLED TURKEY FLATBREAD SANDWICH
smoked turkey, southwest pesto, guacamole, tomato, spinach, roasted red peppers, and pepper-jack cheese
10.95
BURGERS
All burgers 7 oz, Served on a Brioche bun, Served with choice of house side
CHEESE
American, Cheddar, Pepper-Jack or Swiss – .95
TOPPERS
Mushrooms or Caramelized Onions – .95 Avocado – 1.95 Bacon – 2.95
CLASSIC BURGER
flame grilled
8.95
HAWAIIAN
flame grilled, topped with teriyaki, Swiss cheese, grilled pineapple, grilled red pepper, topped with lettuce, onion & Hawaiian aioli
12.95
WILLIES BURGER
flame grilled, Cheddar & Bleu cheeses, and Bacon-Onion Jam
11.95
THE MAC DADDY
flame broiled beef patty, topped with bacon mac 'n cheese
10.95
THE WICKED BURGER
flame grilled, ground chuck infused with caramelized onions, jalapeno, and chipotle sauce, topped with caramelized onions, pepper jack cheese, guacamole and chipotle mayonnaise
11.95
WESTERN BURGER
flame grilled burger with BBQ sauce, cheddar cheese, and crispy fried onion straws
10.95
ENTREES
Served after 5pm
ASIAN CHICKEN & VEGETABLE STIR-FRY
tender morsels of chicken; carrots, mushrooms, peppers, broccoli and fresh herbs in a flavorful broth and steamed rice
14.95
SHRIMP & GRITS
large shrimp sautéed in a tomato-andouille butter sauce smothered atop a mound of cheesy grits
15.95
8 OUNCE TENDERIZED CENTER CUT TENDERLOIN
tenderized & flavorful, topped with merlot-herb butter, served with potato & vegetable of the day
19.95
* Add Sautéed Exotic Mushrooms for an additional charge – 2.95
* Add Caramelized Onions for an additional charge – .95
GRILLED SALMON
topped with pineapple salsa and served with roasted potatoes and fresh vegetables
17.95
CAJUN CHICKEN FETTUCCINE
blackened spiced grilled chicken with roasted peppers, sundried tomatoes, and sautéed spinach in a spicy Cajun sauce
16.95
*Substitute Shrimp for an additional charge – 3.95
SOUTHWEST SHRIMP FETTUCINE
large sautéed shrimp in a chipotle pesto, with bell peppers, ham & andouille sausage – 18.95
SPICY BAJA SHRIMP TACOS
sautéed shrimp tossed in a chipotle sauce with cilantro slaw, avocado, mango, and chipotle sour cream & served with a side of black beans
13.95
** Add salad to any entrée – 2.95
SIDES
SIDEWINDER FRIES – 3.95
SWEET POTATO FRIES – 3.95
ONION STRAWS – 3.95
FRESH FRUIT – 3.95
FRESH VEGETABLES – 3.95
COLESLAW – 3.95
PASTA SALAD – 3.95
ROASTED NEW POTATOES WITH ROSEMARY – 3.95
ROASTED JALAPENO CHEESY CORN – 3.95

Available after 5pm
POTATO OF THE DAY  – 4.95
CHEESY GRITS – 4.95

LITTLE LEAGUE MENU
**12 & under 5.95
**2.95 up-charge for 13 & older

Served with house side and a fountain drink
Milk – add 1.95
FRIED CHICKEN TENDERS
MACARONI & CHEESE
MINI CORN DOG
GRILLED CHICKEN TENDERS
KID BURGER *4 oz
GRILLED CHEESE
CHEESE QUESADILLA
PIZZA ROLLS
DESSERT SHOT OR FLIGHT
SOLO SHOT – $2.95
4 SHOT FLIGHT SAMPLER– $7.95

Please ask your server for the featured flavors